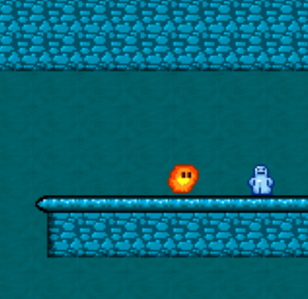 Iceguy is a Saurum game released on 26th june 2013.
On the planet Blamelt, two races are fighting for the throne, fire men and ice men. The fires suddenly attack the ice land and it's only on Iceguy to save them.
The game has 16 levels divided to four worlds. These are:
Ice temple
Edit
This is the basic, easy-to-beat world. It's also something like a tutorial for the game.
Snow tunnel
Edit
This world is just a path, with ceiling and floor on every place.
Echoic cavern
Edit
This is a dark level. Here's just a circle of light around Iceguy and it's hard sometimes to even reach the exit.
Fiery citadel
Edit
This world is the hardest. Lava is always on the bottom and a new enemy, Slipod, who can't be beaten appears. At the end, Iceguy defeats the fire king and the game ends.
Games by Saurum company
2011: Token 1,3, Token 1,4, Shelie's voyage

2012: Token 1,5, Token 1,5 - limited valentine edition, Roundies painting, Token 1,6, Token 1,6,6, Full Moon, Shelie's voyage 2, Token 1,7

2013: Grass Cutter,Token 1,7,3, Knightelus,Iceguy,Balls Attack!,Shelie's Voyage 3,Christmas Chinchilla
Community content is available under
CC-BY-SA
unless otherwise noted.