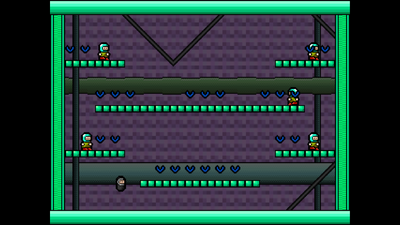 Poppy Jumper is a platformer game made by Saurum, but then deleted due to technical problems.
Levels
[
]
The game contains 7 worlds, 11 levels each.
Green gush
[
]
This world is something like a warehouse or a sewer. You can find here only iron boxes and blockheads.
Spotted structure
[
]
This world is a red-themed fairground. Here for first appear weirdmouths.
Cracked construction
[
]
This is a costruction site world. All former enemies appear here, but also here for first occur cannons.
Sky scope
[
]
This is a heaven/sky themed world. Only here, you can see and be hurted with thunderbolts.
Checkered chamber
[
]
This world looks like a chess pole. You can find here for first round enemies - thafts.
Creepy citadel
[
]
This is the old, spooky castle. Here are many mines and ghosts.
Power plant
[
]
Here appear together with all former enemies also nuclear ball.
Cancellation
[
]
When Poppy Jumper was about to be added on yoyogames, it was not possible due to its large size. M-Carrot so decided to comprize it and that caused it to be unable to be played. That, M-Carrot destroyed the file and it is not playable now.