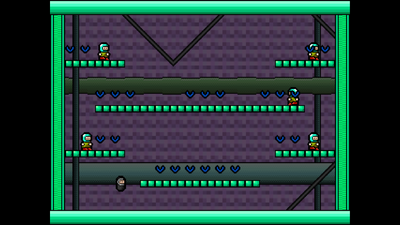 Poppy Jumper is a platformer game made by Saurum, but then deleted due to technical problems.
The game contains 7 worlds, 11 levels each.
This world is something like a warehouse or a sewer. You can find here only iron boxes and blockheads.
This world is a red-themed fairground. Here for first appear weirdmouths.
This is a costruction site world. All former enemies appear here, but also here for first occur cannons.
This is a heaven/sky themed world. Only here, you can see and be hurted with thunderbolts.
This world looks like a chess pole. You can find here for first round enemies - thafts.
This is the old, spooky castle. Here are many mines and ghosts.
Here appear together with all former enemies also nuclear ball.
When Poppy Jumper was about to be added on yoyogames, it was not possible due to its large size. M-Carrot so decided to comprize it and that caused it to be unable to be played. That, M-Carrot destroyed the file and it is not playable now.
Community content is available under
CC-BY-SA
unless otherwise noted.