Shelie's voyage 2 is computer game made by Saurum. Now, it is their largest game file.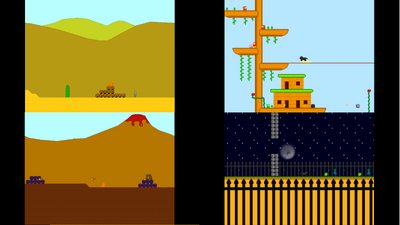 Shelie's voyage 2 has these worlds:
Shelie's neighborhood
Desert
Deep jungle
Volcano island
Cementry
Goblin village
Golden mine
Main article:Shelie's neighborhood Level 1-1 is easy, player is recognizes the environment of the game. Next level is a bit more hard. First time, here's large pit filled with poises. Level 1-3 is a bit easier.
In this world, you can find yelks, oods and poises, enemies, which were also in SV.
Main article:Desert First level to play as Kotch. In these levels, you have to fight with mummies, cactoises, patata grandes and cat-eaters.
Main article:Deep jungle Shelie is in jungle with cat-eaters, large poises, larvas and burdogs. All levels are short for width, but long for height.
Kotch is in place, where volcanoes errupt and in this rush, he has to avoid drakons and drakes, their projectiles? Lava changed yelks in metals and boulders in obsidians.
Shelie is in cementry with zombies, saladus and evil ernests.
Kotch passes through village, where live trolls and elves the sorcerers.
Finally, Shelie gets to cave with eggstars and bronzefishes. Here, she fights with strange thing.
Games by Saurum company
2011: Token 1,3, Token 1,4, Shelie's voyage

2012: Token 1,5, Token 1,5 - limited valentine edition, Roundies painting, Token 1,6, Token 1,6,6, Full Moon, Shelie's voyage 2, Token 1,7

2013: Grass Cutter,Token 1,7,3, Knightelus,Iceguy,Balls Attack!,Shelie's Voyage 3,Christmas Chinchilla
Community content is available under
CC-BY-SA
unless otherwise noted.