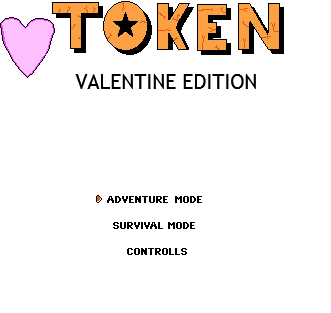 This is the limited edition game for Token. Now, here are these changes:
Token has hearts as eyes
On the pipe is writen:T+S(Token+Shiftface)
The title has minor changes
Poke has a smile, maybe, because he has new girlfriend
The TNT looks like a gift
The floor is pink now
Some changes aren't in the 8-bit raster and the game wasn't very hard to make.
This version was deleted on 15.2.2012, but it can be played on Saurum's official page.
It was, possibly, created, cause the long developing time of SV2 and because of the fans of Token game.
Games by Saurum company
2011: Token 1,3, Token 1,4, Shelie's voyage

2012: Token 1,5, Token 1,5 - limited valentine edition, Roundies painting, Token 1,6, Token 1,6,6, Full Moon, Shelie's voyage 2, Token 1,7

2013: Grass Cutter,Token 1,7,3, Knightelus,Iceguy,Balls Attack!,Shelie's Voyage 3,Christmas Chinchilla